Laboratory of Crystallography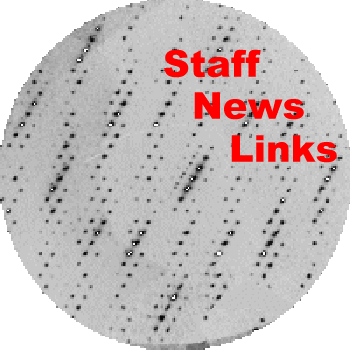 Structure analysis of aperiodic and periodic crystals
This is a home page of the research group of Dr. Vaclav Petricek in the Institute of Physics.

The laboratory is specialized in structure analysis of aperiodic and periodic crystals and in precise diffraction experiment. Our main project is development of the computing system JANA as a universal crystallographic tool for structures up to six dimensions based in any kind of diffraction data. Jana is currently widely spread program with more than 1000 registered users. Another fields covered in our labratory are charge flipping, magnetic structures, electron density studies by method of maximum entropy, phase transitions, twinning, polytypism, preparation of oriented specimens etc.
---
Milestones
2008 We expect installation of the Gemini A diffractometer
2007 Vaclav Petricek awarded by Praemium Academiae
2004 First version of program Superflip written by Lukas Palatinus
2004 CCD detector Sapphire2 installed in the diffractometer Xcalibur
2001 Jana2000 > Jana98 + powder data
2000 Diffractometer Xcalibur with point detector
1998 Jana98 > Jana94 + GUI
1997 Lukas Palatinus, new PhD student
1994 Jana94, computing system for modulated structures based on command line
1990 Era of personal computers begins ...
1989 Michal Dusek, new PhD student
1984 Jana, refinement program for modulated structures written by Vaclav Petricek in Buffalo
1981 Siemens 7536, the second (and last) hall computer
1972 Vaclav Petricek, new PhD student
1971 Tesla 200, the first hall computer
1967 Diffractometer Hilger & Watts
1963 Zuse Z-22/R alias Zuzana, the first universal computer
1954 SuperEliska, Fourier maps calculator
1953 Eliska, structure factors calculator
---
Equipment
Four circle X-ray diffractometer Xcalibur2 with CCD detector Sapphire2 and Mo radiation from Oxford Diffraction

Cooler: Cryojet HT allows for temperatures between 100 and 500 K

Heater: KUMA HotJet allows for temperatures up to 680 K

Back- and front reflection Laue camera

Buerger precession camera

Weissenberg goniometers
---
Staff
| | |
| --- | --- |
| Václav Petříček | Head of the group. Expert to crystallographic computing and structure analysis of complicated structures. Author of the crystallographic system JANA. |
| Michal Dušek | Structure analysis, diffraction experiment. Co-author of the crystallographic software JANA. In charge of the diffractometer lab. |
| Lukáš Palatinus | Structure analysis, maximal entropy method for modulated structures, electron densities, charge flipping. See also superflip. |
| Jiří Hybler | Structural studies of polytypes, chain and layer structures, OD structures in general, twins. Preparation of oriented specimens for various physical studies. In charge of film methods. Personal page: here. |
| Jan Dohnálek | Expert in protein crystallography. Part time. |
| Tomáš Kovaľ | PhD student. Protein crystallography. |
| Karla Fejfarová | PhD student. Crystallography of small molecules. In charge of service crystallography. |
| Olfa Labidi | Postdoc position. |
| Ludvík Hummel | Technician. |
| Jaroslava Bergerová | Technician. |
| Ctirad Novák | Emeritus scientist |

Department of Structure Analysis
---
This page is maintained by Michal Dusek (Michal.Dusek@fzu.cz)